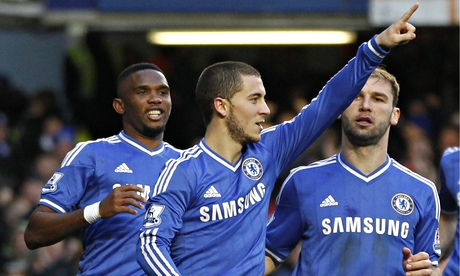 Eden Hazard, centre, celebrates his first hat-trick in English football with his Chelsea team-mates. Photograph: Ian Kington/AFP/Getty Images
The dust had settled but the plaudits kept coming. Eden Hazard was still in the home dressing room, deciphering the congratulatory messages scrawled by his team-mates on the fluorescent match ball, as José Mourinho reflected upon the Belgian's potential. "He's the best young player in the world," the manager said. "I don't want to compare him with the 'monsters', because they have 10 years of career, winning trophies, scoring goals, and it's not fair on them or the kid to make that comparison. But I don't see a better young player."
Those monsters are Lionel Messi and Cristiano Ronaldo, players whose mind-boggling goal tallies at Barcelona and Real Madrid tend to deflect attention from the pace, power and invention in their game. Yet those qualities have seen Hazard stand out at Stamford Bridge this season. What was missing was his own weight of goals, so a first hat-trick in English football to take his season's haul beyond that of his debut year in the Premier League smacked of progress. The impression the 23-year-old gives these days is that "the kid" can go on to achieve anything in the sport.
He has done everything asked of him by Mourinho to date. Pre-season had brought demands for industry and greater professionalism, the message clear that even the team's most mercurial talents must accept more mundane duties, whether that be tracking back or merely marking up. A more committed attitude to training had been drummed into all-comers and Hazard, a prankster with an apparently carefree approach, had to reform. That late return to training after an invite to attend his former club Lille's Ligue 1 game against Monaco in November – he had mislaid his passport – was apparently a blip, "an isolated episode" according to Mourinho, who left the forward out for the visit of Schalke a few days later.
"He accepted that immediately and understood he was wrong, but was wrong in a naive way," the Portuguese said. "He hadn't thought about the possibility of being late and missing a training session. I remember perfectly in that [Schalke] game he was in the dressing room, he was behind the dugout, even if he was not selected. The reality is that, since pre-season, he has understood the levels of professionalism I demand from my players. The kid is a good kid. He's a married man, he has sons, he's a family boy, he's a guy with a fantastic life. Not many players his age have the kind of family life he has. Many of the young talented boys, they are still a bit … you know. The kid is a nice guy."
The manager's last demand was for more ruthlessness in front of goal, and for Hazard to revel as he had done as Lille's leading scorer. His progress on that front is best measured in raw numbers: 14 goals this term, with 12 in the league, which is more than he managed last season; six goals in his last eight top-flight matches. That eagerness to learn marks him out as more than merely gifted. Alan Pardew said: "All the great players have little bouts of super-confidence and that's where he is at the moment. But they have so many other assets you can't really isolate him with a marking job."
His first goal on Saturday was crisply swept across Tim Krul from Branislav Ivanovic's pass, his third slid home from the penalty spot, but his second marked Chelsea out as a force.
Newcastle had just missed their best opportunity, Moussa Sissoko's heavy touch allowing Petr Cech to save at the midfielder's feet. From the scramble at the resultant corner the visitors surrendered possession for David Luiz to slide the ball down the left flank, Willian to gather, then Hazard to collect. The interchange with Samuel Eto'o, the Cameroonian's back-heel perfectly executed, culminated in another first-time right-footed finish beyond Krul.
The move had been constructed at lightning pace, reminiscent of Arsenal's Invincibles in its application. Chelsea sit top of the table and can extend their lead to four points on Tuesday at West Brom. "José's record should sound alarm bells for all the others," Pardew said. "They're as good a team as we'll play."
Newcastle, in contrast, felt stretched. Times, as ever, have been traumatic with the loss of a star player, a director of football and reserve team manager in two weeks. Their lineup was makeshift with so many injured absentees, and the side will remain patched up for the foreseeable future. Tottenham visit St James' Park on Wednesday; a mid-table position seems assured even after six losses in eight matches since late December, but Pardew is on permanent firefighting duty these days.
"I do enjoy it, even if I know sometimes I don't look like I am – I'm ageing by the day – but I love Newcastle and I love working there," he said. "It's always a rocky road but the good days are fantastic and no one will take them away. They're such a great high. Hopefully we'll have another on Wednesday." They need one. Chelsea, in contrast, may have plenty ahead with Hazard in their midst.