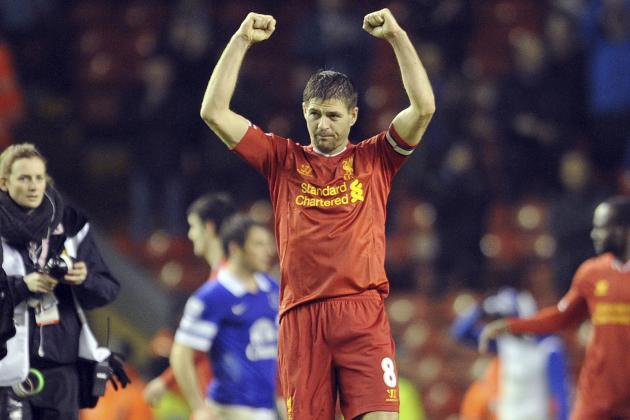 Tottenham Hotspur, Everton and Arsenal have all been blown away and ripped asunder by Liverpool's devastating attack over the past few months and it's led to shouts from all quarters that the Reds are ready for a title charge.
Manager Brendan Rodgers has looked to play down that talk, with captain Steven Gerrard backing him up, per the Liverpool Echo (h/t to ESPN FC):
Listen, he said we are not, so we are all behind Brendan. We listen to what our leader says and he says we are not in the title race, so we go with that. We do what he says - and he says we are not in the title race, so we carry on pushing for the top four and see where it takes us.
And that is the crux of the matter.
Liverpool are playing fantastically well, by and large, but the league and their position within it is not so much of a foregone conclusion that Liverpool can yet ignore those below them...and yet, the temptation and inclination is of course to focus on those above, those to be caught.
But, Liverpool's focus for now must be to keep winning games to ensure the Reds themselves cannot be caught by Tottenham—who are only three points behind.
B/R's guest contributor Janusz Michallik gets it spot on:
Liverpool need to win games to achieve their main objective of finishing in the top four and, by virtue of doing that, they will get close to the title fight.
Until Spurs fall off the pace or Liverpool plough so far ahead as to be uncatchable, public talk should remain firmly about sealing the team's primary aim for the campaign.
How close are Liverpool to finishing in the top four?
Points per game required over remaining 13 games
Team
Points
Points per game
PPG required to reach 72 points
Liverpool
50
2.00
1.69
Tottenham
47
1.88
1.92
Everton
45
1.80
2.08
Manchester United
41
1.64
2.38
The table above shows that it's almost certainly now a two-horse race for fourth place. Or, more pertinently perhaps, a two-horse race for the final Champions League place—with Arsenal's final position yet to be determined.
Of course, that utilises the 72-point marker as a yardstick to determine a top-four finish. Other sources will tell you it could be higher. Previous seasons have not required quite as many.
If so, though, Tottenham have to be even better to finish the season than they've managed to be up to now. Everton have to improve significantly. United are seemingly out of the picture already. Only Liverpool can afford to win points at a slightly slower rate than they have done so far. It's not to say that Tottenham can't go on a winning streak, but that they have to up their game over an entire third of the season is no easy task.