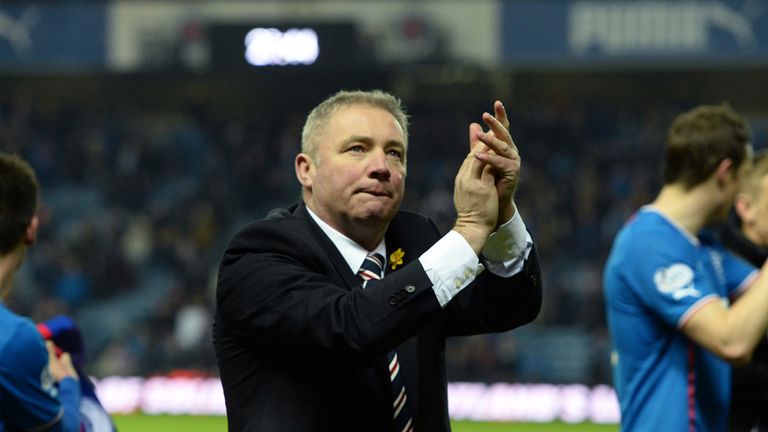 Rangers boss Ally McCoist kept his counsel after seeing supporters show their backing for Dave King during the 2-0 win over Dunfermline.
The League One champions continued their impressive run of form with a cosy success over the Pars but the game saw fans show their support for King, who is in Glasgow for talks with the board after expressing concerns over the club's finances.
The majority of the Ibrox crowd held up blue cards, distributed beforehand by The Union of Fans, on 18 and 72 minutes to back reinvestment by the former director, who lost £20m when Rangers went into liquidation in 2012.
But McCoist continued his quest to avoid the subject, saying when asked what he thought of the fans' show of support for King: "I would congratulate and thank them for their support. That's all I would say.
"Their support has been fantastic throughout the season. Of course, you would need to have your eyes shut not to see the blue card protest on 18 and 72 minutes but that's not for me to comment on, other than thanking them for their support.
"I haven't spoken to anybody from the board at all regarding their meeting but I don't have any doubt that Graham (Wallace, chief executive) and I will have a chat. I would imagine that would be one of the topics of conversation."
Events behind the scenes have not really affected results on the pitch this season and McCoist was pleased his players continue to remain focused despite the title already being sealed.
"That's really encouraging because the players have been totally focused this season on getting results and that has to be the case," he added.
"It's always our job to make sure the players and staff are focused on getting results because that's the only thing we can have an affect on. We will continue to do that."
Steven Smith opened the scoring with a fantastic free-kick, before youth player Callum Gallagher marked his debut with a last-minute strike.
"I thought the first goal was a bit special. We had been going over free-kicks on Friday and even on the morning of the game and none of the rehearsals featured that one to be honest," McCoist said.
"It was very taken and well-received by our dug-out. It was a great strike.
"Young Callum also did well. We have been enjoying his progress with the under-20s and he is one of the lads who has been performing at a good level all season.
"He deserved his chance and he took it. For him to come on and score was a dream for him and I'm delighted for him because he's a great kid."