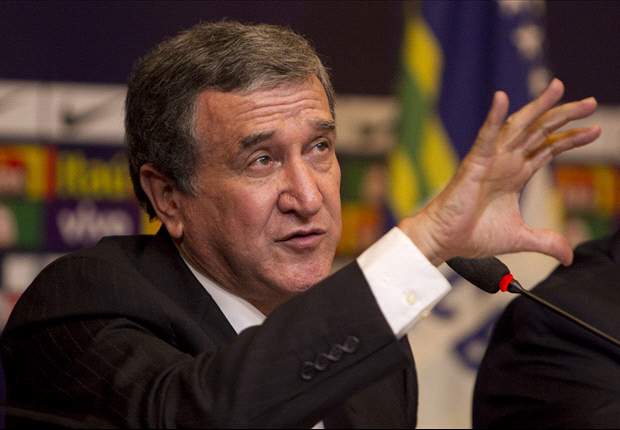 Carlos Alberto Perreira has led no less than five different nations into world football's showpiece event and his experience could prove invaluable to the Selecao
Carlos Alberto Parreira carries the distinction of having led five different nations to the finals – an accolade which has earned him the nickname, 'Mr World Cup.' And current Selecao technical coordinator's experience could be vital to the Selecao as they chase what would be their first World Cup victory on home soil.
Born and raised in Rio de Janeiro, the now 71-year-old Parreira has always been the consummate carioca and obtained a degree in physical education before starting out as a conditioning trainer, working with the great Mario Zagallo at both the 1970 and 1974 World Cups. He begun coaching in 1975 at Fluminense (the club he supports) before taking over the Kuwait national team, leading the Arab nation to the 1982 World Cup.
Ever the globetrotter, he followed a brief spell as Brazil coach in 1983 by heading back to the Middle East where he would make his second World Cup appearance with the United Arab Emirates at Italia 90.
He then returned to Brazil for his crowning moment, keading the Selecao to Wor Cup 1994 by defeating Italy in a penalty shootout in Pasadena, ending the nation's 24-year wait for a fourth title.
He would then find work in Spain, Turkey and the United States before taking Saudi Arabia to World Cup 98 before again returning to the Selecao. However, while Parreira led Brazil to victory in the 2005 Confederations Cup, they would suffer World Cup disappointment in Germany the following year, losing 1-0 to France in the quarter-finals.
MR COPA: PARREIRA'S WORLD CUPS
WORLD CUP 1982: KUWAIT
WORLD CUP 1990: UNITED ARAB EMIRATES
WORLD CUP 1994: BRAZIL
WORLD CUP 1998: SAUDI ARABIA
WORLD CUP 2006: BRAZIL
WORLD CUP 2010: SOUTH AFRICA His sixth finals appearance came with South Africa, when he agreed to a second stint with the Bafana Bafana, replacing compatriot Joel Santana following a Confederations Cup semi-final loss to Dunga's Brazil in 2009.
"I wouldn't have left my house for anything else," Parreira said upon his appointment, having previously suggested his coaching career had come to an end.
"I want to finish what I started in February 2007. And if I did not believe that South Africa could pass the first stage, why would I come back? I'm full of confidence."
Until then, South Africa had participated in the finals only once before, in 2002, but as hosts of the first African World Cup in history, 2010 saw the country filled with hope.
But, for the first time in World Cup history, the host nation was eliminated in the first round. South Africa had opened their campaign with a 1-1 draw with Mexico before defeats to Uruguay and France ended their World Cup dream on goal difference.
Despite early elimination, thousands of fans still hit the streets to honour Perreira and his side – something that he has never forgotten. "I am very proud to have given an identity to the team," he said.
And South Africa continues to hold a special place in is heart. "It's a real pleasure and quite an honour to be back in South Africa," he said on Monday. "I consider this my second home."
Parreira boasts a CV to rival anyone in world football, but today his priorities lie with firmly with helping Brazil coach Luiz Felipe Scolari to a sixth world title - and their first on home soil.
For him, the Gillette Brasil Global Tour clash with South Africa this week was not the time to experiment with new players. Of the 19 that have travelled to Johannesburg, only Rafinha and Fernandinho had yet to be called up since Scolari's appointment in 2012.
"We have a schedule until the last game, until the end of the World Cup," says Parreira, who has been meticulous in his planning since agreeing to return to the Selecao.
"Playing at home is different," he says. "Playing in front of our fans give us a responsibility to win. We can only think of that goal."
And with 'Mr World Cup' helping lead the way, it's hard to imagine that the hopes of nation could be in better hands.