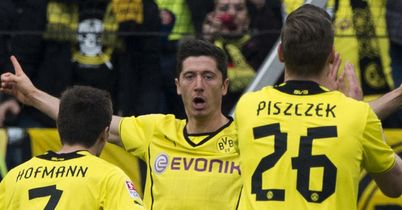 Hannover's director of sport Dirk Dufner wants his side to put their 3-0 defeat at home to Borussia Dortmund at the weekend behind them as they prepare for theoretically easier opponents to come.
They travel to Hoffenheim on Wednesday before travelling to bottom-placed Eintracht Braunschweig for a local derby.
Hannover then have games against Hamburg, Frankfurt, Stuttgart, Nurnberg and Freiburg - all sides below them in the standings.
"We're now up against only teams who are struggling and you can quickly climb the table against these, although at the same time, you can soon drop down too," Dufner said.
Hoffenheim are three points ahead of Hannover and continue to boast the third most prolific attack in the division.
At the same time, however, they have the league's leakiest defence with Sunday's 3-2 win at Bayer Leverkusen symptomatic of their season.
"We need to build on this and we're confident we will do too," said midfielder Tobias Strobl to the Rhein-Neckar Zeitung newspaper.
Indeed, they are not reading too much into their nine-point advantage over the relegation zone with eight games of the season remaining.
At the same stage of last season, Fortuna Dusseldorf felt they were safe with a similar cushion, only they went down on the last day of the season with Hoffenheim salvaging their Bundesliga status with a win at Borussia Dortmund.
"We may have more points than the whole of last season already, and these 32 points give us some breathing space, but they're not going to be enough," said the club's director of sport Alexander Rosen.
So what may seem like a mid-table battle with little at stake is still crucial to both sides' survival hopes at the Rhein-Neckar-Arena.