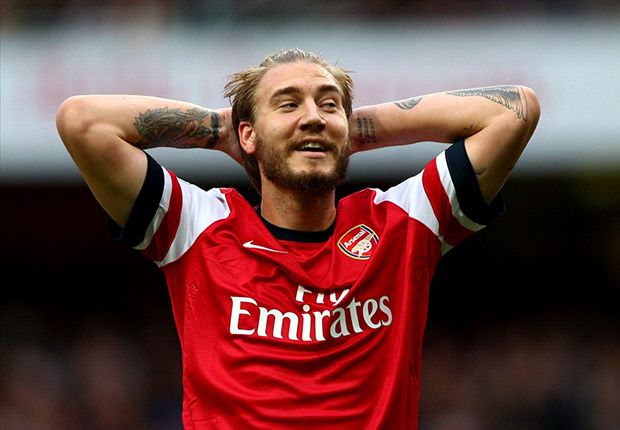 The Denmark striker, who will line up against England at Wembley on Wednesday, has played a total of 82 minutes in the Premier League this season and has started just once
Nicklas Bendtner says he is not happy with his lack of first-team opportunities at Arsenal.
9/1
Nicklas Bendtner is 9/1 with Betway to score first against EnglandBendtner has started just one Premier League match this season and Arsene Wenger has recently elected to play Yaya Sanogo in key FA Cup and Champions League clashes in the absence of Olivier Giroud.
And the Denmark striker, speaking at Wembley ahead of Wednesday's friendly with England, says he is fit and ready to play a part in the title run-in.
"If you find a football player who says he is happy to sit and watch and not play then I think he needs to find another job," he told reporters.
"I want to play, there's no doubt in my mind. I'm ready, I'm fit, I'm training well. That I'm not selected is up to the manager, it's not up to me, if he then chooses differently then that's up to him."
Bendtner could come up against Gunners team-mates Jack Wilshere and Alex Oxlade-Chamberlain at Wembley, but he does not expect it to be too intense an encounter.
"Yeah it's going to be good fun," he added. "We'll see if we can joke around in the dressing room at half-time, maybe have a laugh about it.
"It's a friendly, there's not a lot at stake, I think a lot of players have played a lot of games... so it's going to be a difficult game for us."