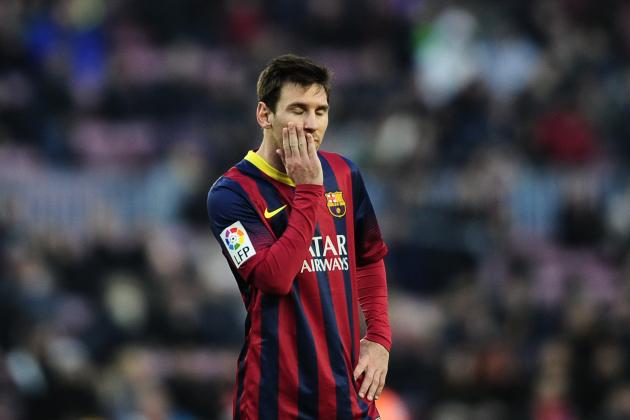 Has arguably the world's best player, Lionel Messi, lost his passion for football?
Former Barcelona assistant coach Angel Cappa certainly thinks so, as he told La Xarxa (via Matt Jones of Goal.com):
To play football you need boundless passion, like Messi had, like the great players like [Diego] Maradona ... any important player in the Primera Division: Xavi, Iniesta, Busquets. You need enormous passion, you need that energy that comes from an absolute love of the game.
[On Wednesday against Sociedad], he participated [in the game] a little more, but the day they played Valencia, I couldn't understand how a player could play football so dispassionately.
And especially him, because if we look at a game of his from three or four years ago, there was that craziness, that passion that he had for playing. And I don't know why or for what reason, but that is coming to an end.
Cappa also theorized that Messi has simply become bored with the game after being "married for 15 years to football." He also accused Barcelona on the whole of playing the game with much less enthusiasm than they've displayed in years past.
It's important to note, of course, that Cappa is simply theorizing about Messi's motivations rather than providing an insight on them based upon a relationship with the player or some type of insider knowledge. If he does have a source within the club informing his position, he did not claim as such.
David Ramos/Getty Images
Of course, Messi's production hasn't severely waned this season. While he has been beset by injuries, he has still scored nine goals and added six assists in 15 La Liga appearances. He's also WhoScored.com's top-ranked La Liga player with an average match rating of 8.25.
While those marks are below his normal goal-scoring pace, they're hardly shabby. And there's no question that his recent battles with injuries over the past two seasons have had some effect on his game.
He's certainly not talking like a man who has lost his passion for the game, either. He spoke about his desire to succeed for both club and country at a recent event for Gillette, via Sky Sports:
Winning titles with the team is more important to me than winning individual awards. I hope to win everything with Barcelona and obviously I hope Argentina can reach the World Cup final.
Whether it is against Brazil or whoever it would just be a dream come true to play in the final.
Yes, Messi and Barcelona are in a lull. The club has won just one of its last four league matches (drawing twice), and Messi has just a goal and an assist in his last five La Liga contests, so it's easy to see how Cappa came to his conclusion.
But accusing Messi of losing his passion for the game is also a very big claim, and one that will probably be more accurately affirmed or denied after his performance for Argentina in this year's World Cup, where a title with his country would put him in the discussion for greatest player of all time.
If he's listless and uninterested this summer, Cappa's comments will be verified.