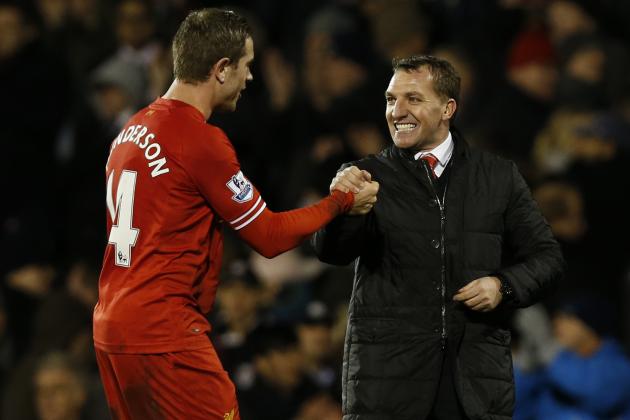 Brendan Rodgers has humorously played down Liverpool's chances of winning the Premier League, saying his team are the "chihuahuas" of the title race.
The Northern Irishman's analogy is a response to Jose Mourinho, who claimed Chelsea are the "little horse" after beating Manchester City at the Etihad.
As reported by Neil McLeman of the Mirror, Rodgers' reaction came after Liverpool's 3-2 comeback win over Fulham, a match that saw Steven Gerrard net a winning penalty in the last minute:
I don't do all that horse stuff.
Jose is very good at all that sort of stuff. We may be the chihuahuas that run in between the horses' legs. But we're just about improving with each match.
Sang Tan/Associated Press
Will Liverpool ever win the Premier League under Brendan Rodgers?
Yes
No
SUBMIT VOTE vote to see results
Liverpool's win places them four points behind Chelsea, one behind Manchester City (who have a game in-hand) and three behind Arsenal. The midweek fixtures saw both Chelsea and the Gunners struggle with draws, ensuring the Reds moved two points closer to the top spot.
Although still in contention, Rodgers is right to quash talk of a title-winning campaign. Liverpool have been explosive at times this season—highlighted with huge wins over Tottenham, Everton and Arsenal—but have also shown the capacity to struggle against lesser teams.
OptaJoe provides a statistic that must be ironed out if the team are to continue progressing up the table: