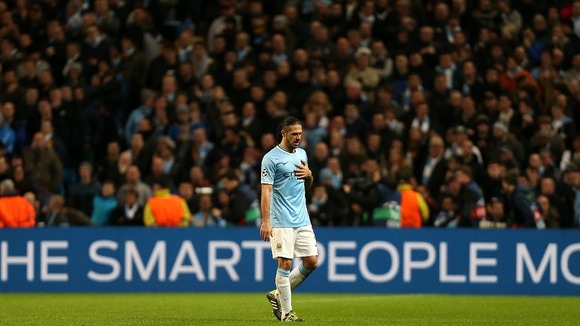 Man City boss Manuel Pellegrini has defended the performances - and his repeated selection - of Martin Demichelis.
Demichelis has come in for severe criticism after his sending off in City's Champions League loss to Barcelona on Tuesday.
The Argentinian defender was caught out by Lionel Messi and brought his compatriot down to concede a penalty in what proved the game's pivotal moment.
It was merely the latest in a growing catalogue of errors against Demichelis' name after particularly poor performances in recent games against Watford and Chelsea.
Yet Demichelis, formerly of Bayern Munich and Malaga, has established himself as first choice in central defence alongside Vincent Kompany and Pellegrini has no complaints.
Pellegrini, who felt the foul on Messi in the 2-0 loss occurred outside the box, said: "I think he played very well until the penalty and I think maybe it's (just) a fraction of a second (late), and he thought he arrived to the ball.
"I think he is a very important player. He is in a very good performance for the moment.
"I think Vincent Kompany and him are playing well so he is a very useful player for us."