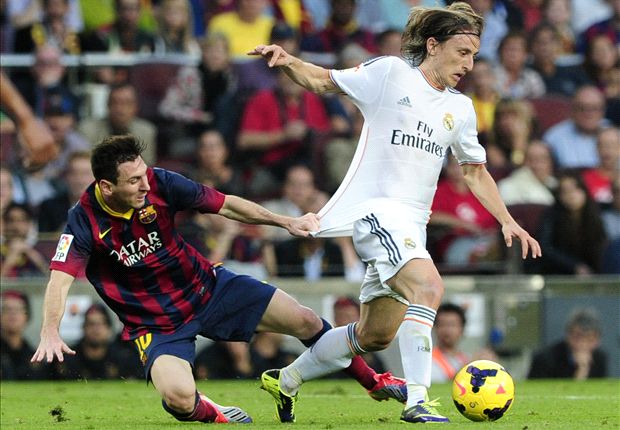 The Croatia international joined los Blancos from Tottenham in the summer of 2012 for €35 million and has been one of the side's standout performers this season, after struggling initially for consistency in the Spanish capital.
"I never considered leaving Real Madrid or that it was a mistake to come here," Modric told BBC Sport. "It was my dream come true when I signed for Real Madrid.
"I want to stay here for as many years as possible and, if it's possible, finish my career here.
"I feel so proud of where I've come. All I dreamed of when I became a footballer was to play for a club as big as Real Madrid. It's maybe the most famous and best club in the history of football.
"I have big trust and big confidence from the coach [Carlo Ancelotti]. From the beginning he was clear with what he wanted from me and how important I am for the team. That helped me a lot and I could show my quality on the pitch.
"I don't think any club is like here. They ask so much from you and that forces you to always be at the top of your game.
"The pressure is huge here. But I've never had a problem with pressure, I like pressure; pressure pushes me to be better."
Modric, who admits he owes much of his development into one of Europe's top midfielders to his time at Tottenham, points to a match with Premier League champions Manchester United in last season's Champions League as the true turning point in his Madrid career.
"I have great memories of Tottenham," continued the 28-year-old. "I spent four great years there with a lot of emotions, with a lot of love from the club and the fans. I enjoyed every moment with Tottenham.
"But in one moment you feel you need to take a step forward, to go to a higher level.
"I think it was the right time for me to go, but I will always be thankful to Tottenham for everything they did for me. I became a better player there and they pushed me to this level where I am at the moment. I will always be a fan, I follow them a lot when I can.
"I had some difficulties at the beginning [at Madrid]. I didn't have a complete pre-season - I trained on my own in London, I came later here and you need time for everything to get settled.
"I knew sooner or later I would show my quality and show to everyone why I'm here, why Real made such an effort to bring me here.
"I had a lot of support from the ex-coach [Jose Mourinho] - he did everything to bring me here and I'm grateful for that. At the beginning he was very helpful to ease my adaptation. By the time I was fit enough I started playing better and better. His tactics were never a problem for me.
"When I came on [against United] I changed the game, I scored that goal and after we scored another to win 2-1.
"That was the turning point for me and my career at Real Madrid. From that game, people started seeing why I'm here and my career at Real Madrid was all the time going up."