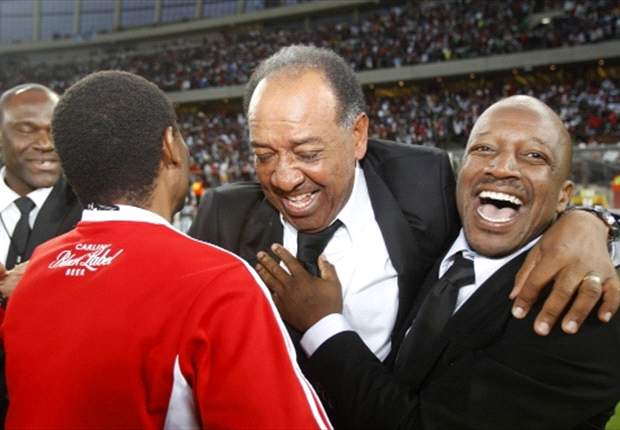 Former Bafana Bafana coach Augusto Palacios has raised his concerns about the future of South African national team ahead of their international friendly against Brazil.
Bafana will lock horns with the Selecao at the FNB Stadium on Wednesday, but Palacios believes that the friendly will benefit the Brazilians more than the South Africans.
"It's an important game, because Brazil has brought all their stars from all over the world to prepare for the 2014 World Cup, but my main concern is South Africa," Palacios told Goal. "How will this international friendly benefit South Africa?.. Because we are clearly not using this game to prepare for any tournament," he said.
With coach Gordon Igesund using the Spain game to motivate his charges against the 2014 Fifa World Cup hosts, the Peruvian-born mentor said Bafana should forget about the past results, because those results don't make SA the best country on the continent.
"We also need to forget about our past results against these top countries, because they don't mean anything if we still cannot benefit from them.
"We beat Spain, but failed to win Chan 2014. So, even if we can beat Brazil tomorrow, what good will it do to our football? It doesn't make us the best in Africa, because we can't qualify for major tournaments," said Palacios.
Palacios believes that it's time South African national team coaches start bringing in young talented players, and added that the majority of the players in the current squad should be ditched.
"75 per cent of the Bafana squad should be completely young players and the 25 per cent should be the experienced players who are already there in Bafana as we speak. I am talking about the likes of Andile Jali, Thulani Serero and Tokelo Rantie.
"Our problem in South Africa is that our coaches are afraid of losing games, and that's why we don't see as many young players as we should. We still believe that an 18-year-old player belongs to the U/20, and that's wrong."
"I am still wondering why Keagan Dolly isn't in the team to play Brazil. Are we waiting for him to reach 25 before we include him in the squad? He should be there now so that he will be ready for the 2018 Fifa World Cup," he added.
Palacios believes that South Africa can learn a thing or two from Brazil in terms of grooming young players, while also dismissing suggestions that Neymar Junior is the best player in the world.
"For example, Neymar was included in the Brazil squad from a young age, and he's doing well for himself.
"He's not the best player in the world, because he's still growing at Barcelona. I mean, Messi, Ronaldo, Ribery are the best players, but Neymar will get to that level," he concluded.