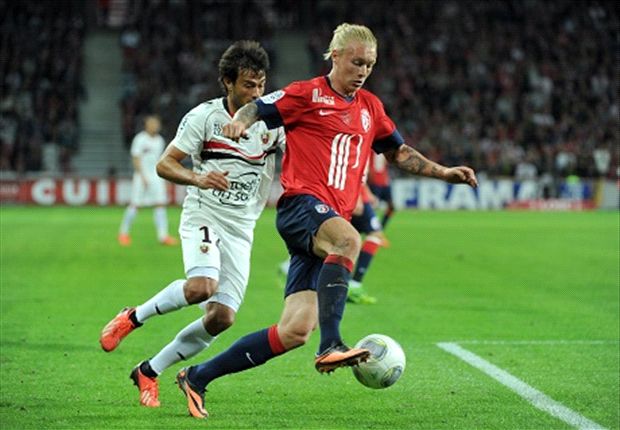 The Denmark international is keen that Rene Girard's side close out an impressive Ligue 1 campaign by finishing in the top three
Lille centre-back Simon Kjaer has indicated that the club's aim this season is to finish third in Ligue 1, which would mean a potential place in the Champions League next season.
The Stade Pierre-Mauroy outfit are currently embroiled in an exciting battle with Saint-Etienne and Olympique Lyonnais for a top-three place behind Paris Saint-Germain and Monaco, and the Denmark international is confident in his team's chances.
"We are definitely going for third place in Ligue 1 and the qualification rounds for the Champions League," the centre-back told Goal.
"That's our target, in my opinion. We know that other big and strong clubs are gunning for the same objective, like St. Etienne, Lyon and Marseille."
The former Roma stopper, 24, believes the current stage of the season could be crucial and that a strong few weeks could give them the platform they need to take the bottom step on the podium.
A 2-0 win over Montpellier last weekend was a positive step, but now the Dane is setting his sights on three points against Nantes on Saturday.
"We see this part of the season as a bit of a four-match phase, from which we could end up being in a very favourable position," he added.
"We started by winning the first game last week, and now we need to beat Nantes. Then we go to a big game in Monaco, and finally we have Guingamp at home, which must be another three points if we want to achieve our goal.
"The intriguing part is that our competitors for third also meet each other and the two top teams in this phase so, in the best scenario, it could be looking really good for us in two weeks' time."
Having enjoyed a strong campaign so far, Kjaer is confident Rene Girard's side will see the term out on a positive note.
"We have an exceptional atmosphere at LOSC, and there is a feeling that we have had a great season so far, but now we really want to bring it home," he indicated.
"We are third in the league right now, in the quarter-finals of the Coupe de France, we have the best defence with 17 clean sheets in 26 games, and we have won 10 of our 14 home games in front of our great supporters in our fantastic stadium."