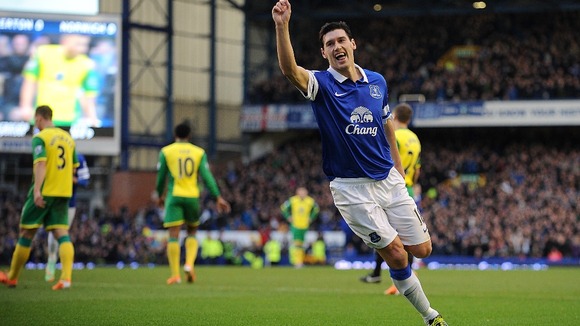 Everton manager Roberto Martinez has called for a change in Premier League loan rules to bring them into line with European regulations.
On-loan midfielder Gareth Barry is unavailable against parent club Manchester City on Saturday yet Atletico Madrid were able to play goalkeeper Thibaut Courtois in their successful Champions League semi-final against Chelsea, despite the Belgian technically belonging to the Stamford Bridge side.
Martinez, who has come in for criticism this season for utilising the loan system to bring in Barry, Chelsea striker Romelu Lukaku, Barcelona's Gerard Deulofeu and Monaco's Lacina Traore, believes that is an anomaly which needs rectifying.
"In my eyes when you reach an agreement for a player to go - whether a loan or permanent transfer - he should be allowed to play," he said.
"It is a decision you make in a window and I don't see it as a healthy way to treat a loan player in not letting him play against his parent club.
"If you make the decision to allow a player to go it is because, that season for whatever reason, everyone is happy to see him at another club.
"I think the fairest way is to see what we see in European competition and see a player fully focused for the team he is at and at the end of the season it is a matter of reassessing the situation.
"The loan (system) has a real need in the modern game. It is a very interesting debate and should be something that needs to be looked at.
"Clearly we shouldn't have two different rules in two different competitions - I think domestic rules should be the same as the European laws in that respect."