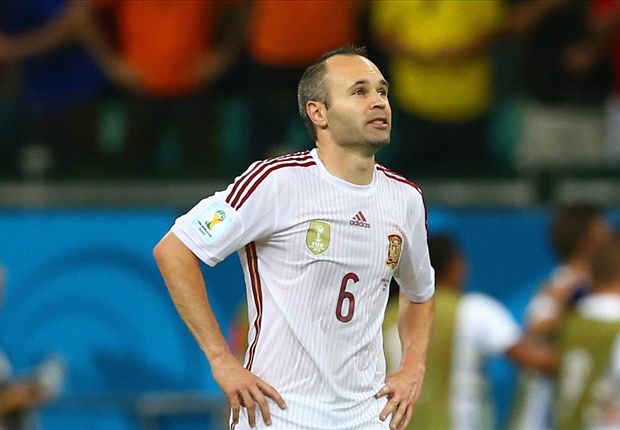 The Frenchman insists Spain have no need to re-evaluate their footballing identity despite being humiliated by a sensational Netherlands performance in Salvador
By Liam Twomey in Rio de Janeiro
Spain do not need to overhaul their 'tiki-taka' philosophy in the wake of Friday's 5-1 mauling at the hands of a rampant Netherlands team, according to Gerard Houllier.
Vicente del Bosque's men approached the match in Salvador as favourites to top Group B but now face a fight to even qualify after goals from Robin van Persie, Arjen Robben and Stefan de Vrij helped the Dutch run riot.
The emphatic nature of the defeat, coupled with Real Madrid's thrashing of Pep Guardiola's Bayern Munich in last season's Champions League and Barcelona's ongoing struggles, has led to renewed questions as to whether possession football has been surpassed by a more direct brand of attacking in recent years.
But while he was full of praise for the Dutch performance, Houllier - who has been a member of Fifa's Technical Study Group since 1994 - remains wary of endorsing the reports of tiki-taka's demise.
"I don't think it's obsolete," the Frenchman told reporters at a press briefing at the Maracana.
"There was a key moment when Silva missed the second chance because maybe the game would have been killed. From one moment to another the confidence shifts.
"Spain played extremely well in the first half, the second half maybe they were affected by the goal. But the opposition were untouchable and sometimes you have to admit that.
"It's very difficult to say this is obsolete. The beauty of football is you have cycles of teams. Sometimes its very difficult for a coach to maintain motivation when Spain won three major trophies and were on top of everything.
"But fortunately one big defeat brings you back to reality and you can get back to it."
The first four matches of the 2010 World Cup in South Africa yielded just five goals. The first four matches in Brazil have yielded 15, and Houllier believes it is a sign of things to come.
"It's going to be a World Cup with positive, attacking play," he added. "The team that wins will be the team that takes risks. The game last night shows you're not invincible.
"I feel very sorry for Vicente del Bosque because the second goal affected Spain physically and mentally, but he was already preparing for the next game. We have to admit the Dutch played extremely well