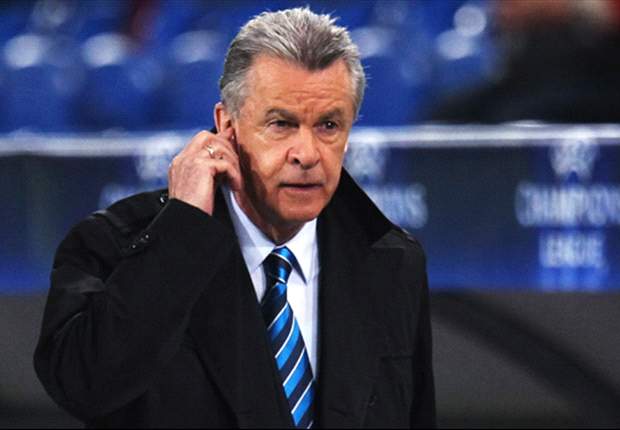 The 65-year-old is confident his men can reach the knockout stages and feels they share the favourites role in their group alongside France
By Stefan Coerts from Brasilia
Switzerland coach Ottmar Hitzfeld is optimistic about his side's chances of qualifying for the knockout stages of the World Cup and feels they are as good as group rivals France.
The Swiss kick off their Group E campaign with a match against Ecuador at the Estadio Mane Garrincha on Sunday and Hitzfeld cannot wait to get started, having set his sights on a spot in the round of 16.
"France and Switzerland are both favourites in this group. We have done better than France in the past few years when you look at results and we have been slightly more consistent, but they have a lot of potential and should be regarded as favourites, too," the Switzerland boss said at a press conference.
"I am optimistic that we can show what we can do at the World Cup. We are a disciplined team and everybody wants to work hard. We are stronger than in 2010.
"We started a new project in 2011 with young players and have some experienced players as well. We have the perfect mix and the atmosphere within the team is very good.
"Three finals await and Ecuador are the first up. They're a strong team. There's more to Ecuador than Antonio Valencia and Felipe Caicedo. They are very strong on the counter-attack. And they have two superb centre-backs and fast wing-backs. Switzerland must be at their best to win this game."
"After that we have France, who are favourites as well. And in the end we want to seal qualification against Honduras. We will take each opponent seriously and will prepare in the best way possible."
Switzerland were eliminated in the group stages at the 2010 World Cup, despite a 1-0 win over eventual