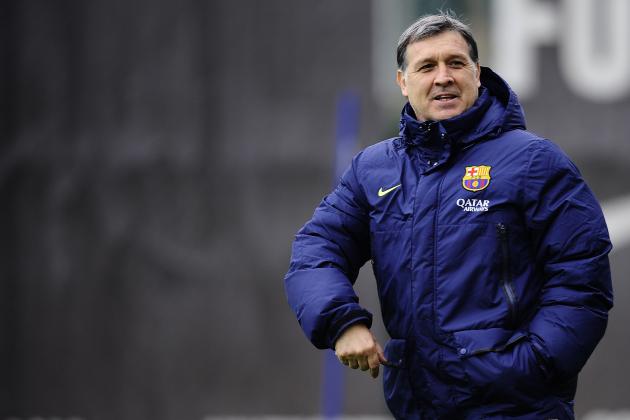 Barcelona's season took a huge dent on Saturday night. It may only have been three points, but few points are being dropped amongst the top sides.
The league isn't the only area where they could be affected, as the confidence from future opposition will increase.
As you would expect, no one is panicking in the corridors of the Camp Nou.
"We're not worried about the team," Dani Alves told Marca. "When you get used to winning and then you lose, it can feel like the end of the world, but people shouldn't doubt Barca," per Football Espana.
Gerard Pique told Spanish radio: "It was a result we didn't want, not something we expected but it's happened," also via Football Espana.
"I think even at a big club like Barca, doubts can come. Not in the locker room though. We have no need for doubts," the defender declared.
The success of the club in recent times, means that you will get contradictory responses from the media and supporters alike.
Some will point to a drop in standards and ponder how mentally they can motivate themselves having won everything previously.
Others will see things from Alves and Pique's angle, the team knows what they are doing and losing is just a natural process.
Pique also revealed in the radio interview that Lionel Messi inspires off the pitch as well as on it.
"I see Leo every day and I see a bestial desire to keep winning titles," said Pique.
"There was a game we lost at home, very tough, but we were still in a good moment and still League leaders.
"I talked to him and he made me realise that defeat still hurts and you realise you're hurt and you want more titles," he continued.
That suggests some players at Barcelona wonder if they can still cut it at the top and the strongest mentally have to help teach those that are not as focused.
Gerardo Martino's team has won once in the last four league matches and just four in the previous eight.
With away trips to the Ramon Sanchez Pizjuan and Anoeta in the next few weeks, it will be a testing time for Barcelona.
"This week I said that at this stage of the season you pay a heavy price for any errors and today we committed a lot of errors," admitted Martino in the post match press conference, via The National.
Barcelona might not be doing some of the things that made them great, but they are fundamentally working within the same philosophy.
The debate over the style is still hovering in the background, but it can be argued that it was individual mistakes that have cost them recently.
These oversights can be rectified through coaching and with psychological strength. "We always talk with the players and certainly after a game as unusual as Saturday's," said Martino before Wednesdays Copa del Rey semi-final first leg, via Football Espana.
"We discussed our mistakes. They get harder to recover as we play more games."
Every team experiences wobbles during the season, it's how you bounce back that determines who collects the medals in May.
Pep Guardiola's teams would traditionally falter slightly in February due to fatigue, before recovering to finish the campaign at full intensity.
With Neymar back in training, Andres Iniesta moving closer to complete fitness and Messi improving every game, there are reasons to be optimistic.
The Argentine and his friends won't want that feeling again in a hurry, which is bad news for the rest of the league.