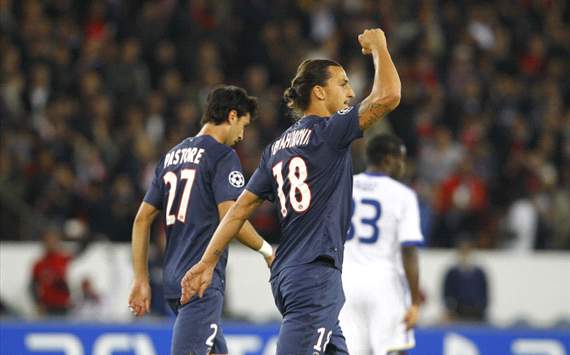 Zlatan plays as a central striker, but who flanks him? Cavani has taken the primary role as a right forward this season and has an excellent scoring record so far: 17 goals from 22 starts is good value for the €63 million man.
Lavezzi dominates the left flank, but he can be a little streaky at times and has kicked up a few fusses this season. Lucas is in play for the right-sided role, but his costly decision-making in the final third hurts his stock and he never gets the chance to string a run of games together—something vital if he is to improve in this key area.
The job of a manager is to craft a well-balanced formation, not shoe-horn the 11 best players you have into a shape that looks vaguely proper and current. On paper there's no question Lucas is the better RF fit for a 4-3-3, but that's the only position Blanc can use to accommodate Cavani in.
The balance, in truth, is a little off, but we haven't seen how this effects the side's fortunes on the biggest stage yet because PSG are yet to come up against a top-tier side.
Will Cavani's unnatural role on the right be stumped against the bigger, better teams? He's given PSG good production, but it feels a lot like the triumph of individual brilliance rather than systematic victory.
The presence of Lucas on the right, sticking wider than Cavani, may have a knock-on effect too; Van der Wiel's roaming role could be stunted or curtailed somewhat.
We play the waiting game with PSG for now; no one can confidently suggest just how well they will stack up against Europe's fellow elite sides.