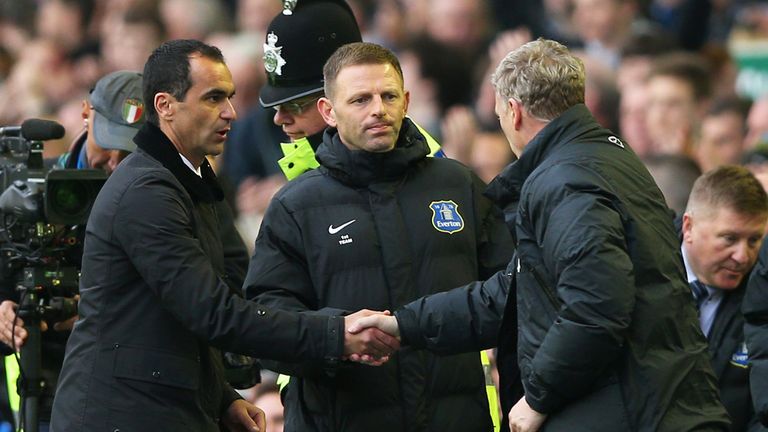 RDavid Moyes will make a successful return to management soon, according to the man who replaced him at Everton.
Roberto Martinez was brought in when Moyes left for Manchester United and has led Everton to the brink of Champions League qualification with three games of the season remaining.
Moyes, meanwhile, was sacked this week after 10 months at Old Trafford - and just two days after a comprehensive defeat at his old club.
Some Everton supporters have turned on their former manager, who spent 11 years on Merseyside and delivered a top-four finish in 2005.
But Martinez said: "We wish him the best of luck. He will always be well thought of and we will always be thankful of the job he did at our football club.
"It is not a nice situation when a manager loses his job, especially someone who has such strong links with our club.
"It has been a difficult experience but any experience is a good experience in this game unfortunately. We know David Moyes will look forward to the next footballing chapter.
"We all know he is a very successful man and has a real strong winning mentality and he will get ready to bounce back straight away.
"It is very difficult to get that experience, the amount of years he has been working at the highest level, and the know-how he has is a real strength.
"I am sure he will be ready to get into another job as quick as he can and I am sure he won't have a lack of offers or opportunities when you have someone who is so hard-working, focused and dedicated in his job.
"We all know he is going to be very successful in the future."
West Ham manager Sam Allardyce has also had his say on Moyes' departure, claiming it does not reflect well on Manchester United.
"For me, not knowing all the facts...the leaking didn't look very good," he said.
"For Manchester United, as an institution, as a football club of that size, the process looked like it was flawed."
"It looks as though David Moyes knew his fate before he was told - that's how it looks from the outside - if that's the case then it's a great shame for David and a great shame that Manchester United chose that process."